Sam Neill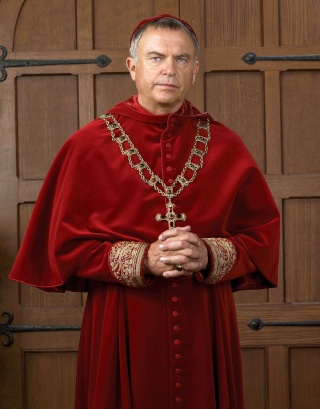 Né à Omagh, Co. Tyrone, en Irlande du Nord, le 14 septembre 1947, d'une mère anglaise, Priscilla, et d'un père néo-zélandais, officier dabs l'armée. Sam retournera en Nouvelle-Zélande en 1954. Il fréquente les Universités de Canterbury et Victoria et en ressort diplômé de littérature anglaise.
Sam Neill ne se prédestinait pas au cinéma, mais rêvait d'une carrière au théâtre. Il travaille avec le New Zealand Players et d'autres troupes de théâtre. Il a également travaillé pour le New Zealand National Film Unit pendant 6 ans, où il y apprend la réalisation de courts métrages, le métier de scénariste et monteur.
Sa première apparition sur grand écran date de 1975 avec Landfall, puis vient Sleeping Dogs (1977). Il déménage ensuite en Australie et sa performance dans My Brilliant Career (1979) fut remarquée à Londres par l'acteur anglais James Mason qui fit pression sur les studios pour que Sam Neill obtienne le rôle titre dans La malédiction finale (1981). Grâce à cela, il s'installe en Angleterre et devient célèbre grâce à son rôle dans "Reilly: Ace of Spies" (1983). A la fin des années 1980, il retourne en Australie.
Son physique mi-ange mi-démon, qui attire irrémédiablement la sympathie, lui permet d'incarner toute sorte de rôles différents
1993 sera l'année "Sam Neill" avec les succès commerciaux et les bonnes critiques pour ses interprétations dans Jurassic Park (1993) et Le Piano (1993). Depuis, il enchaîne les rôles titres à l'écran dans des productions internationales.
Avec une moyenne de deux films par an dans les années 2000, Sam Neill continue son ascension. L'acteur aux cent visages poursuit sa carrière et en 2007, il endosse de nouveau le costume du célèbre docteur Alan Grant pour tourner le quatrième opus de Jurassic Park .
A savoir
Marié deux fois avec Lisa Harrow, puis Noriko Watanabe, il a un fils de son premier mariage et une fille de son second ainsi qu'une belle fille.
Il partage sa vie entre les USA (Beverly Hills), l'Australie (Sydney) et la Nouvelle-Zelande.
Il a été décoré de "l'Order of the British Empire" pour « Service to Acting » (1993).
Il possède un vignoble en Nouvelle –Zélande à Gibbston Valley, Otago. Son vin est nommé « Two Paddocks » (pinot noir).
Il fut un des prétendants au rôle de James Bond pour Tuer n'est pas jouer (1987) et GoldenEye (1995) pour lesquels Timothy Dalton et Pierce Brosnan furent finalement choisis.
Filmographie
The Last Dragon: Search for the Lost Pearl (2009) (in production) .... Dr. Chris Chase
Telepathy (2008) (in production)
Under the Mountain (2009) (post-production) .... Mr. Jones
In Her Skin (2008) (post-production) .... Mr. Reid
"Iron Road" (2008) TV mini-series (post-production) .... Alfred Nichol
Daybreakers (2008) (completed) .... Bromley
"Crusoe" .... Jeremiah Blackthorn (13 episodes, 2008)
Skin (2008/I) .... Abraham Laing
Dean Spanley (2008) .... Dean Spanley
"The Tudors" .... Cardinal Thomas Wolsey (10 episodes, 2007)
Angel (2007/I) .... Théo
"Two Twisted" .... Mick (1 episode, 2006)
Irresistible (2006) .... Craig
Merlin's Apprentice (2006) (TV) .... Merlin
Sci Fi Inside: 'The Triangle' (2005) (TV) .... Eric Benerall
"The Triangle" (2005) TV mini-series .... Eric Benerall
"Mary Bryant" (2005) TV mini-series .... Governor Arthur Phillip
Little Fish (2005) .... The Jockey
"To the Ends of the Earth" (2005) TV mini-series .... Mr. Prettiman
Wimbledon (2004) .... Dennis Bradbury
Yes (2004/I) .... Anthony
Jessica (2004/I) (TV) .... Richard Runche
Stiff (2004) (TV) .... Lionel Merricks
Perfect Strangers (2003) .... The Man
Doctor Zhivago (2002) (TV) .... Victor Komarovsky
Leunig Animated (2002) (V) (voice) .... Narrator
Leunig: How Democracy Actually Works (2002) (voice) .... Narrator
Dirty Deeds (2002) .... Ray
Framed (2002) (TV) .... Eddie Meyers
The Zookeeper (2001) .... Ludovic
Jurassic Park III (2001) .... Dr. Alan Grant
Submerged (2001) (TV) .... Lt. Cmdr. Charles B. 'Swede' Momsen
The Magic Pudding (2000) (voice) .... Sam Sawnoff
The Dish (2000) .... Cliff Buxton
My Mother Frank (2000) .... Professor Mortlock
Sally Hemings: An American Scandal (2000) (TV) .... Thomas Jefferson
Bicentennial Man (1999) .... 'Sir' Richard Martin
Molokai: The Story of Father Damien (1999) .... Walter Murray Gibson
"The Games" .... Citytrans CEO (1 episode, 1998)
The Revengers' Comedies (1998) .... Henry Bell
The Horse Whisperer (1998) .... Robert MacLean
Merlin (1998/II) (TV) .... Merlin
Event Horizon (1997) .... Dr. William Weir
Snow White: A Tale of Terror (1997) .... Lord Friedrich Hoffman
In Cold Blood (1996) (TV) .... Agent Alvin Dewey
Children of the Revolution (1996) .... Nine
Restoration (1995) .... King Charles II
In the Mouth of Madness (1995) .... John Trent
Victory (1995) .... Mr. Jones
The Jungle Book (1994) .... Colonel Geofferey Brydon
Sirens (1994) .... Norman Lindsay
"The Simpsons" .... Malloy (1 episode, 1994)
Country Life (1994) .... Dr. Max Askey
Jurassic Park (1993) .... Dr. Alan Grant
The Piano (1993) .... Alisdair Stewart
Family Pictures (1993) (TV) .... David Eberlin
Suite:
Spoiler:
Cardinal Thomas Wolsey
Thomas Wolsey
(né vers 1473 ? – 29 novembre 1530), né Thomas Wulcy à Ipswich, homme d'État et cardinal anglais. D'origines modestes, Thomas Wolsey devint la figure principale dans les affaires de l'état pendant de nombreuses années, sous le règne de Henry VIII avant de tomber en disgrâce.
En 1514, il prend Thomas More à son service pour s'occuper de ses revenus.
Le cardinal Wolsey développa principalement ses talents en gérant la politique étrangère du royaume pour le compte de Henri VIII. Malgré les nombreux ennemis que lui valut son ambition, il sut acquérir la confiance du roi.
En 1529 ses hésitations et tergiversations, soucieux de ne pas mécontenter le Pape, eurent pour effet de lui faire perdre tout crédit auprès du roi. En automne, poussé par Anne Boleyn, Henri VIII fait citer Thomas Wolsey devant sa cour de justice. Il est alors démis de ses fonctions de Lord-Chancelier et privé de ses propriétés, y compris sa belle résidence du Palais de Whitehall, où Henri décida de s'installer à la place du Palais de Westminster.
29 novembre 1530, il meurt d'épuisement pendant son transfert à la Tour de Londres.